Date: 20th September
Time: 4pm UK Time
The Body and Mind at War – The Problem with Diets and Controlling Food Intake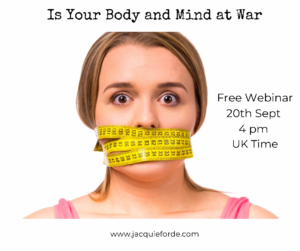 Register for my free webinar classes
Be sure and sign up for my webinar list so you will not miss any of my free webinar classes.Webinars are scheduled from time to time and you will be notified of upcoming webinars and provided the necessary link to attend.Please register below.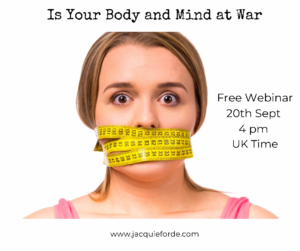 The Exhausting Body Mind War
I have been at war with my body since I was 12 years old. This war was not my war but my mothers war, a story that I was innocently drafted in to fight alongside her.
Our story with food intake or avoidance always has an origin, a source from where it begins and until we identify and address that source we find ourselves in a never ending battle with our body and mind.
Join me on September 20th 2021 at 4pm UK time to find out how you too can call a truce on your constant battles with food intake and avoidance.